Pulp Figures
Pulp Figures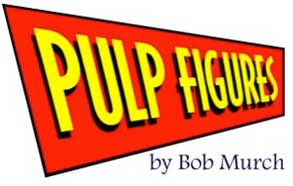 The pulps were entertainment magazines of the early 20th century and reached their peak of popularity in the period between the first and second world wars. These magazines introduced tough guy detective stories with famed characters like Sam Spade and Philip Marlow, occult action/adventure stories from authors such as Robert E. Howard, the creator of Conan or Sax Rohmer of Dr. Fu Manchu fame. They also introduced the jungle fantasy adventures of Tarzan of the Apes. Within the pages of the pulps you might join an expedition into distant lands in search of a lost city. You might sail an airship through a polar gateway to a pre-historic world at the center of the earth. It was an action packed world of brave heroes standing alone against sinister villains plotting world conquest, tough dames, spies and even the occasional brilliant scientist with a newly invented rocket ship. It was a brightly colored world of action packed, spine tingling adventure.
Pulp Figures' 'Pulp Era' is a fuzzy, fictional period from the Great War up to the early 40's. If you saw the 'Indiana Jones' films then you should get the idea. Historical accuracy is not a priority. We are shooting for mood and flavor here; far-flung, two-gun adventure in seedy seaports, sinister spies and occult villains steeped in arcane lore, the smoke of desperate battle and grinning in the face of death.
In this world you might encounter time lost tribes of ancient Egyptians or primitive Neanderthals, rocket packs and death rays. You will most certainly encounter military forces from around the world engaged in the timeless struggle for power among the fragmenting remnants of the Colonial empires. There are archaeologists searching desperately for arcane antiquities. There are tough guy, ex-patriot adventurers out for gold and trouble. There are warlords, aviators, dragon-ladies and thieves. There are intrepid officers commanding far-flung outposts and gentlemen explorers crossing trackless wastes in the name of honor. For the unlucky there are unspeakable horrors dredged up from the moldering tombs of the forgotten past.